Propane equipment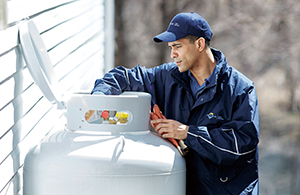 As your total propane solutions provider, you can count on Petro for all of your equipment needs, including on-site appraisals, tank sizing guidance, professional installation, support and maintenance.
Our technicians and support team can take care of the following propane equipment in your home or business:

Propane furnaces
Propane furnaces heat your air warmer than electric heating systems. Electrical heaters produce heat that is lower than body temperature, which is why air feels cooler coming out of an electrical heater. Propane heaters produce heated air at about 120 degrees Fahrenheit and run for short time segments to lower operating expenses.

Check out some of the great reasons why propane is a great choice to heat your home:
Heating a home with propane gas costs half as much on average than heating with electricity (U.S. Department of Energy)
Propane-fueled furnaces last 15-20 years — that's 5-10 years longer than electric heat pumps, on average
Propane heating systems can be vented vertically or horizontally, eliminating the need for chimneys
New propane gas furnaces are smaller than previous models and provide greater placement flexibility
Propane can keep your home warm and comfortable during electrical power outages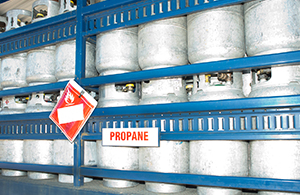 Propane fireplaces
Many homes now use fireplaces to heat either the main room or the entire home and there are many great reasons why using a propane fireplace over a traditional one is a better choice for you:
Traditional fireplaces use dampers, which need to be open while a fire is burning. This causes much of your heat to escape. Directly vented gas inserts have a sealed heating chamber that reduces the quantity of heat that is wasted as it is sucked outside.
With a propane fireplace, all of your heat radiates to your room. Direct vents use every bit of combustible air from outside your home.
Propane gas inserts will, in many cases, improve the indoor air quality in your home. Wood burning fireplaces have a tendency to increase allergens and particulate, but with the sealed combustion chamber of a propane fireplace 100% of combustion exhaust is expelled – guaranteed.
A flick of a wall switch or remote control device easily turns off your propane fireplace without the worry of any leftover embers still burning. With a propane fireplace, there is no mess of dirty ashes or wood debris to clean.
Propane fireplaces can be installed as freestanding units, wall insets, traditional masonry, or ultra-contemporary designs.
They can be equipped with a variety of options, including push-button ignition, remote control, variable heat controls and thermostats.
Propane fireplaces can also be equipped with built-in dampers, smoke shelves, and heat circulating features to provide both radiant and convective heat.
Underground & aboveground propane tanks
Petro has the underground and above ground tank options to suit your particular budget and requirements. Our propane system installation professionals are fully trained and will provide you with expert service from beginning to end of any tank installation project. They will also train you on how to use and maintain your propane system, to ensure that you have the most energy efficient system ever. Installing an underground tank that is protected from the elements, is a smart way of ensuring that a constant source of fuel is available in the event of any weather or winter storm catastrophe.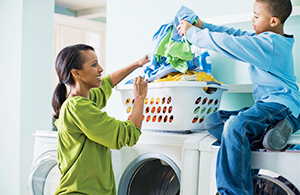 Propane generators
Make sure you're never left without power again. Our standby home generators can provide a reliable source of electricity for your home in the event of a power outage, even when you aren't there. Since standby generators run on either propane or natural gas, they can be hooked directly to your existing gas lines. On average, a 250 gallon propane tank fueling a seven kilowatt standby generator would provide enough electricity to power a home for five days, while a 500 gallon underground tank would provide 11 days of power.
Propane water heaters
Propane water heaters are able to meet main water needs, such as household sinks and showers, as well as meeting distant needs as in a greenhouse, workshop or other out building A propane water heater beats electric models as smaller storage space is needed and temperature adjustment is more precise. There are also more sizes, installation and venting opportunities to choose from. Tankless propane water heaters offer "heat on demand", eliminating the need to keep water heated in a tank, which can add up to saving on annual heating costs.
Cooktops/ranges
Cooking with gas can be significantly cheaper than cooking with electricity. Propane-fueled ovens and ranges give you more precise control over temperature and heat food more evenly. Instant gas flames allow you to cook without waiting for burners to warm up. Propane gas burners also cool quickly Propane makes the stove safer by allowing burners to cool quickly when heat is turned off. Propane appliances are available in all the latest kitchen designs — convection ovens, sealed burners for easy cleaning, griddles and grill tops, even deep fryers.
Clothes dryers
Propane dryers dry clothes more efficiently and are less expensive to run than electric dryers saving about half the cost of electric dryers (Source: U.S. Department of Energy). Propane dryers heat up to optimum drying temperatures faster, cutting drying time in half. Propane dryers quickly reach the temperatures needed to dry clothes evenly. The moist heat of propane dryers is less likely to burn or discolor fabrics than the heat produced by electric dryers.
Pool & spa/hot tub heaters
Propane heaters will get your pool or spa to that perfect temperature much faster than any electrical heater. Not only that, they generally conserve energy for cost efficiency. Heaters can range in size from as small as 5,000 Btu/hr for a spa or hot tub to 400,000 Btu/hr for a full-size swimming pool. Swimming pool heaters are available in both above-ground and in-ground models.
Patio heaters
A propane patio heater can provide 20-feet of radiant heat and bring the outdoor air temperature between 10 and 30 degrees higher. Patio heaters come in sizes to suit your particular needs and most models, including tabletop sizes, offer adjustable temperature controls with features that ensure your safety.