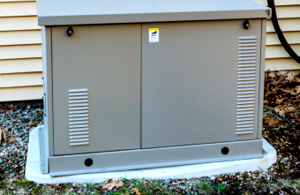 Backup generators as low as $150/month with zero down!*
From remote working and learning to using electronic devices for entertainment, you can't afford to have any of it disrupted by a power outage that could take you offline for hours, days, or even weeks. A backup generator will keep everything in your home powered up. Even when the power goes off.
*Based on financing a $12,000 installation and 9.99% interest rate up to 132 months. Subject to credit approval and applies to qualified systems only. Cannot be combined with other offers. Additional terms and conditions may apply.