Home heating oil delivery services.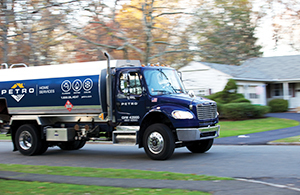 Petro Home Services offers heating oil delivery 24/7, 365!
Trust our team of local heating oil delivery experts to reliably fuel your home heating needs. Heating oil is necessary to keep your home cozy and comfortable during the cold East Coast, Mid-Atlantic, and Northeast winter months. Never worry that your family will be left hanging by an unreliable heating oil delivery company. When you choose Petro as your heating oil supplier, you can trust our heating oil delivery drivers will be there rain or shine, all year round!
Find your local Petro heating oil service location at our locations page or give us a call today!
Automatic heating oil delivery services.
Take the guesswork out of when you need heating oil with an automatic heating oil delivery service. After the first few months of heating oil consumption, our local delivery experts will estimate your average fuel use and schedule a time to regularly deliver heating oil to your home.
Our heating oil experts consider the following when making our estimates:
Square footage of your home
Age and efficiency of your HVAC system
Oil tank size
Fuel use history
Talk to one our heating oil delivery service experts today to schedule your service!
We offer competitive pricing.
Our heating oil delivery service plans are priced competitively to local markets. We have various payment plan options to help you budget smartly, save and keep your home warm and cozy.
Learn more about our pricing and service plans.
What our customers are saying about us.
I have been a customer of Petro for almost a year and overall, I have been very satisfied. However, I would give 10 stars to their Customer Service/Support. They went above and beyond to help remedy my problem. If you switch to Petro, tell them I sent you!
– Yvonne C.
El servicio de petro es insuperable , cumplen lo que prometen con eficiencia en conclusión ha sido una bendición contar con ellos en este invierno . Así pues me gustaria seguir contando con ellos en lo adelante muy muy complacido orgulloso y seguro estamos mi familia y yo con petro muchas gracias!!!!!
– Robert R.