Petro propane service plans.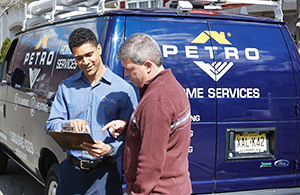 Since propane is one of the nation's most versatile sources of energy, you can rely on Petro for all your propane needs, too and our propane protection plan will provide you with the peace of mind that you need, all year round.
Propane protection plan.
On-call access to service — 24 hours a day, seven days a week
When you call, we're there for you. This means you can get repairs done quickly before they become bigger problems. There are no charges for services covered by this agreement when performed between 8:00 am and 5:00 pm, Monday through Friday, excluding federal holidays. If you request service for arrival prior to 8:00 am or after 5:00 pm, on a federal holiday (days when the post office is closed), or weekend, there will be a diagnostic fee.


Tune-up
To help keep your energy bills low, you should consider a tune-up. This service is available between March 30th and September 1st at no additional cost. This schedule will allow us to optimize our response to your emergency service needs during the heating season.


Enjoy a 15% discount on regular rates
To help you save even more, this plan gives you a 15% discount on our regular rates for any repair work not covered by your plan.

For more information about our propane services, call 800.645.4328.
Some exclusions apply, please contact us for details.