That's why more of your neighbors choose Petro.
With over 100 years of experience covering the Northeast from Massachusetts to Maryland and Virginia, Petro is a full-service heating and home services provider that keeps customers warm in the winter, cool in the summer and save on energy costs all year round.
You can rely on our experts to take care of many other home comfort services, too and our dedicated team is always working to provide better service. That's the Petro promise.
Call 888.735.5651 to join our family and learn more about services.
Home heating oil and propane services.
Whatever the weather, whatever the time, even in the worst winter storms, we will deliver your oil or propane. Deliveries are automatic and we never run out of fuel.
Our customer service professionals, drivers and technicians all provide best-in-class services 24/7, whatever the weather, all designed with your comfort and savings in mind.
Automatic heating oil delivery and emergency service
Heating oil pricing plans to help manage heating costs
Monthly budget payment plans
Propane delivery and services*
Heating system service plans
Equipment installation and repair services of systems from all leading brands
Special offers on new, energy-efficient heating systems
Home heating oil equipment and services to help you save
Automatic delivery propane services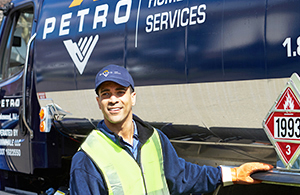 Air conditioning services, equipment, installations and repairs.
We can keep you cool and save in the summer, too with energy-efficient AC equipment, service plan options, special offers and 24/7 service and support.
Our AC technicians will ensure that your new AC system is installed perfectly, or your current one is serviced or repaired, to run at peak efficiency and save you money.
High quality Trane® equipment and other major brands
Installation, service and repair of central air and ductless mini-split AC systems from all major brands
Special offers on new, energy-efficient AC systems
AC tune-ups and service plans
Air conditioning services and equipment to keep you cool
Generator, indoor air quality and natural gas services.*
Petro also has a range of other services to keep you comfortable at home all year round:
Generators: installation, service and repair of backup generators for most major brands to make sure that your home stays up and running during any power outages.
Indoor air quality: our team can install the latest indoor air quality systems in your current HVAC system to help you breathe healthier, cleaner air at home.
Natural gas services: use natural gas in your home? We have service plans, equipment installation and repair services to meet your needs.

"We would like to commend your employee who came to our house during the big snowstorm in February, when our oil furnace went out late in the evening. Not only was he courteous and very knowledgeable about the problem, but he was also able to fix it quickly, which we really appreciated with outside temperatures so low."
Petro customer
Find out why your neighbors choose us for all their heating and home comfort needs over any other company. Join the Petro family today. Call 888.735.5651.
*Some services may not be available in all areas.