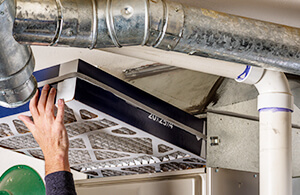 Your home is a refuge. It's where you entertain friends and family. It's where you relax after work, and it's the stage for all of life's most treasured moments and experiences.
At Petro Home Services, we understand that your home means the world to you, and we want to keep that world warm. Proper home heating is a crucial element in maintaining optimal comfort in the home, and home heating maintenance is how to stay comfortable throughout the winter.
Our home heating maintenance checklist covers all aspects of home heating maintenance. Developed by our expert technicians, it's the very same guide we use when servicing your home. We offer it to you to demonstrate how involved maintaining a home heating system can be.
The home heating checklist also clearly and honestly depicts why you need a home heating technician's help.
That's where Petro comes in. With decades of experience making homes comfortable and affordably heated throughout the winter, we know you want comfort without breaking the bank on wasted fuel. Also, with a tradition of doing the job right the first time, every time, your home is in good hands.
Heating equipment maintenance checklist at-a-glance.
Filter Inspection and Replacement
Thermostat Inspection and Replacement
Boiler and Furnace Inspection, Repair, and Replacement
Fuel Line Inspection and Repair
Ventilation Inspection and Repair
Duct Inspection and Repair/Replacement
Central Heating System Maintenance
Annual HVAC Maintenance
1. Filter inspection and replacement
The filters of your home heating system keep the air clean. In central heating systems, warm air moves through ductwork, and heats the home room by room.
Clogged air filters will push dust and particulates throughout the home. Air contaminated with dust and particulates is hazardous to you and your family's health and should be a top concern.
A home heating technician will inspect each air filter to ensure they are clean and allow the free flow of heated air throughout the home. Often, because filters are relatively inexpensive elements of a home heating system, they are simply replaced.
2. Thermostat inspection, repair, and replacement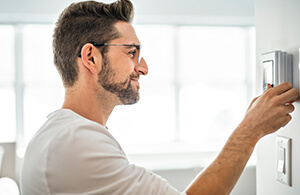 The thermostat in any heating system sends a signal to the furnace or boiler to increase or decrease the production of heat.
A properly working thermostat reports the current temperature to your system. It also orders your system to produce the desired temperature. A malfunctioning thermostat cannot properly communicate to your heating system that it needs to produce more or less heat.
This often happens because thermostats are electronic machines that sometimes malfunction. A trained home heating specialist will diagnose whether the thermostat needs to be replaced.
3. Boiler and furnace inspection, repair, and replacement
Before we talk about boiler and furnace maintenance, let's clear up the difference between the two.
A boiler heats water, and that heated water is pumped throughout the home into radiators. A furnace, on the other hand, heats air which is pushed out throughout the home by a motor and a fan.
Read more about the difference between boiler and furnace systems here.
Over time, boilers can stop working at peak efficiency for a variety of reasons. Air trapped in the boiler or the pipes running throughout your home will impede heated water flow. Additionally, dust and dirt caught in your heating system cause rust and debris to build up. Some boilers start to leak because of this.
Read more about when to repair or replace water heaters and boilers here.
Furnaces that are not properly maintained can circulate contaminated air throughout your system. Dust and dirt, like boilers, can build up in furnaces and even cause a fire hazard.
To properly maintain a boiler or furnace, the area around the burner must be kept clear and clean at all times.
A full inspection of your boiler or furnace will determine whether issues can be repaired. Yet, if you've had your boiler or furnace for ten years or more there is a high chance the unit will need to be replaced altogether. A trained heating equipment specialist will always recommend whatever will keep your home comfortable and - most importantly - safe.
Read more about issues concerning furnace systems here.
4. Fuel line and fuel tank inspection and repair
The fuel lines of your home heating system transport fuel to the burner. That means a consistent and tightly-sealed fuel line system is paramount to a safe and comfortable home. Trained home heating specialists will inspect the entire fuel delivery line for rust, leaks, and proper assembly. Most often a total replacement of the piping used in your system's fuel line is the safest and most efficient way of ensuring fuel is properly delivered to your boiler or furnace. Also routine inspections of the fuel tank are an important part of keeping your property safe and comfortable.
5. Ventilation and radiation inspection and repair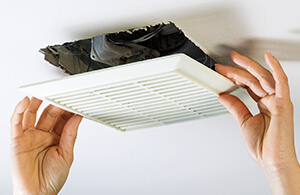 The ventilation and radiation systems in your home deliver heat to your home. A properly working system will deliver consistent warmth. A malfunctioning system will do otherwise.
Radiators fill up with water or steam from your boiler and heat the surrounding air. Air can get trapped in the radiators, and when this happens the unit doesn't fill up with water. Your system can't tell this is happening, so it will draw more fuel and expend more energy to reach the desired temperature. This costs you money in additional fuel usage.
Clogged ventilation systems for furnaces trap warm air in your heating system instead of delivering it throughout your home. Just like above, your system will overcompensate the lack of airflow by using and wasting more fuel.
A home heating specialist inspects each and every point from which air flows from your system into your home. They will ensure radiators and ventilators are working properly, and that electronic systems communicate properly to the rest of your system.
6. Duct inspection and replacement
Air ducts are used in furnace and central heating systems to transport warm air throughout the house.
The insulation in duct systems will sometimes break down or tear. This causes heat to be released inside the walls and other places where it's not meant to ventilate. Because air is not heating your home, the thermostats will incorrectly detect a lower temperature. This causes your system to draw more fuel to make up for the difference.
Heating system technicians at Petro Home Services inspect all ductwork in a home to ensure a proper connection to deliver warm air throughout the home.
Read about innovative, ductless heated air systems here.
7. Central heating system maintenance
A central heating system requires maintenance from time to time. Calibrating a central heating system is crucial for proper delivery of heat to each part of the home.
A heating system technician will inspect both the heating system itself, and each room into which warm air flows. Checking thermostats, ductwork and ventilation, and several other components are all part of a central heating system maintenance regimen.
Read about how an oil-fired system works here.
8. Annual HVAC system maintenance
Along with all other inspections and maintenance programs, your entire HVAC system should be inspected annually, every year.
The many components of a heating system can break down, sometimes at different times throughout the year. An annual checkup with one of our highly-trained heating specialists identifies every problem with your heating system, so you can take care of everything at once.
Maintenance over repairs.
Maintaining your heating system is good for your finances. With maintenance, you can avoid massive out-of-pocket costs if something completely breaks down. Maintenance, in fact, prolongs the life of every element of your home heating system.
Also, annual maintenance ensures you won't be without heat during the frigid winter months. In short, annual maintenance is absolutely necessary, every year.
Petro is here to help.
At Petro Home Services, we strive to bring the very best of our experience to each and every job. With comprehensive, full-service inspections to quick repair and replacement of any part of your home's heating system, you'll never be without heat for many winters to come. If you haven't scheduled your annual home heating system maintenance, contact us today to schedule an appointment. Working with us will save you money, give you peace of mind, and stay comfortable in the place where life happens - your home.