What is a ductless AC mini-split system?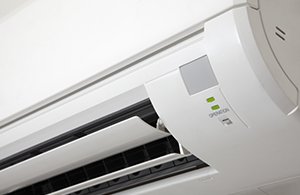 Just like any central AC system, ductless, mini-split AC systems place the noisy compressor and condenser outside the home. Ductless AC systems require no basement- or attic-located evaporator units and eliminate the need for bulky ductwork by using thin copper tubing to pump refrigerant directly to discreet wall-mounted blowers inside the home. In other words, a ductless AC system is essentially a heat pump without ductwork.
Some ductless AC models achieve the highest efficiency ratings of any type of air conditioning system. Another great advantage of this system is that it works in reverse to provide home heating in winter. Ductless AC systems come in numerous capacities and configurations to fit even the most difficult spaces.

What are the benefits of a ductless, mini-split AC system?
The main benefit of a ductless air conditioning system is that it provides flexible, energy cooling to individual parts of your home. Here are some more reasons to consider a ductless system.
No expense and hassle of ductwork installation - and no ductwork means more efficiency.
Smaller and less expensive than central AC
Virtually silent - quieter than loud window units or central AC systems
One outdoor condenser can be connected to multiple indoor units-- each with its own programmable remote for individual zone control
Also functions as a heating unit in the winter, so you enjoy all of the energy-efficient benefits year-round for greater annual energy savings.
Easy installation
No more bulky AC system components inside the home or hanging out of your window -- piping can often be routed through walls to maintain the aesthetics of your home.
Remote control - Optional wired remote lets you control temperatures in different rooms or zones of the home.
Energy efficiency - No ductwork means you lose less than 5% cooling vs. up to 40% for traditional central AC systems, with increased efficiencies up to 27.2-SEER for lower utility bills.
Helps you go green - R410A refrigerant is most systems is designed to be environmentally friendly.
Improved home security - Units are mounted high on a wall, away from the window, providing you with improved security and a pleasant view, unlike window AC units.
Call 888.735.5651 now to learn about our energy efficient ductless home-cooling systems, including the Fujitsu Halcyon system!
---
Additional resources
Petro Home Services is proud to not only serve communities in DC, CT, MA, MD, NJ, NY, PA, and RI but we also proudly acknowledge the skills and experience of our expert team behind all resources. With insights on topics ranging from heating oil facts to common air conditioning questions, you can rely on Petro Home Services for facts and information to help you understand more about your heating, cooling and home comfort needs. This article and all articles on the Petro Home Services website have been approved by our team of home service experts.